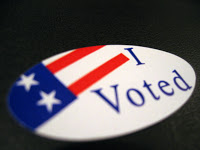 Bankruptcy and integrity play key roles in several campaigns across the country. This year, more races than ever implicate bankruptcy, debt and morality, raising the question whether voters are willing to overlook a candidate's financial struggles when they cast their votes on November 6.
In Massachusetts, well known bankruptcy personality Elizabeth Warren is in a tight race for the U.S. Senate against incumbent Scott Brown. Although Warren is a nationally known figure, she continues to battle integrity issues connected to her former claims of Cherokee ancestry, as I discuss in my blog Elizabeth Warren and the Transparent Debtor.
In Connecticut, both sides of the Senate race have pointed fingers at the other candidate's financial mishaps. Chris Murphy missed mortgage payments and the bank filed a foreclosure complaint against him in the mid-2000's. He later cured the defaults. Linda and Vince McMahon have been shamed into repaying hundreds of thousands of dollars in debts that were discharged in their 1970's bankruptcy. The McMahons have since made millions in their WWE wrestling empire. Read more in Foreclosure Finger Pointing Colors Connecticut Senate Race.
In Tennessee, a candidate with a wretched bankruptcy record is pushing forward in his quest for the 44th District House seat. Steven Glaser has filed Chapter 13 bankruptcy four times since 1996 and is on the wrong end of at least 15 tax liens for unpaid personal income, unemployment and business taxes between 1988 and August of this year. The taxes total more than $158,000. Find out if he can win in Serial Bankruptcy Candidate Steve Glaser Owes The IRS $158,000.
If we are to believe the lessons of history, these candidates should not be discouraged by their battles to keep their heads above water. More than one great American has risen above deep financial trouble to claim a place in our national legacy. Click here to find out which national treasure is bolstered by the deeds, not the debts, of two iconic Americans.
Do you think that filing bankruptcy should disqualify a candidate? I'd like to hear your opinion. Please leave a comment below.