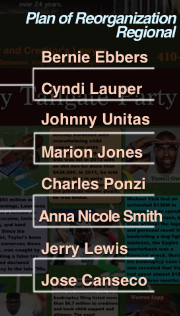 I couldn't be more excited to present March Madness:Bankruptcy Brackets. I've been blogging about celebrity bankruptcies and created infographics like The Baseball Bankruptcy Hall of Fame, The Flag of Bankrupt Presidents, The Bankruptcy Big House and others.


So, I decided that it would be interesting, educational and fun to have a competition amongst all of these celebrities right around the time that March Madness and Bracket Mania take over our culture. Bankruptcy Brackets are a series of interesting matchups between celebrity bankrupts and other famous debtors.


What would happen if Thomas Jefferson went against Walt Disney? Tom Petty against Kim Basinger? Teresa Giudice against Bernie Madoff?Check back regularly to see how the brackets fill out. Look for updates on Facebook, Twitter and Google+.


We will be posting videos of the featured matchups on our YouTube channel and keeping fans current on all of the Bankruptcy Brackets action right here.